You may have heard that media spectacle Kim Kardashian has expressed interest in running for mayor of Glendale, California. (Note to Kim:  Glendale doesn't elect a mayor. City Council Members are elected and the mayoral position rotates among the council. But don't let rules and facts stop you, girl.)
What did Glendale ever do to deserve this? One of my best friends lives in Glendale and it's a nice enough place. But, Kim's political aspirations got me thinking about famous people and the professions they should never attempt. Here are a few from my list:
Mitt Romney:                                        Humane Society spokesman
Alec Baldwin:                                        Anger management specialist
John Edwards:                                     Marriage counselor
Newt Gingrich:                                     Hospice volunteer
Joe Lieberman:                                    Motivational speaker
Marcus and Michele Bachmann:       Dancing with the Stars contestants
Kirk Cameron:                                      Inter-faith liaison to gay community
Bill Maher:                                            Director of Christmas and Easter pageants
Rush Limbaugh:                                  Sexual harassment seminar speaker
Mel Gibson:                                          Director of the Simon Wiesenthal Center
I'm sure you have plenty of your own suggestions for those poor, bored politicians and celebrities. There is one guy who is in bit of trouble for all the money he spent on a Las Vegas conference, among other things. Jeffrey Neely is an official with the Government Services Administration (the "GSA") and the apparent organizer of the $823,000 Las Vegas conference.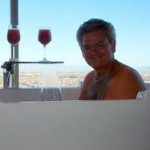 'Ol Jeff pleaded the 5th before a House committee and it doesn't take a genius to know that he's going to be out of a job soon. But with his skills, I see a rosy future as an event planner. Kim Kardashian's inauguration party won't happen on its own, after all.