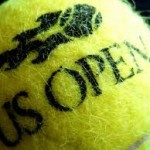 I'm re-discovering my love of tennis while watching the 2011 US Open and as I do with everything I get interested in, I become obsessed. Thanks to an upgraded cable package that included Tennis Channel, I'm getting acquainted with a lot of new faces, especially on the Women's Tour. For a few years now, I've found women's tennis unwatchable due to the prevalence of shrieking that so many top players seem to engage in as they hit EVERY SINGLE BALL.
Now, I'm not a professional tennis player but I used to play a lot. I don't remember Chris Evert (my favorite), Evonne Goolagong (my Dad's favorite) or even Martina Navratilova wailing like banshees as they hit the ball. They just played the game and played it well. This shrieking is unnecessary, it's distracting and it's pure gamesmanship. Some of the men grunt and groan but not all of them. If Roger Federer can win all the championships he has while being as silent as Marcel Marceau, what's Maria Sharapova's excuse?
In any case, I found myself watching more men's tennis of late but I started missing watching the women. So, I started following the coverage on Tennis Channel and there are some incredibly talented women out there, and even some who don't cause dogs to bark on the other side of the world. One of my favorites is Sam Stosur from Australia. She's strong and fun to watch. And she's quiet!
She's made it to the semifinals and is now set to face Germany's Angelique Kerber. I know nothing about Kerber but I'm hoping Sam makes it through to the finals. The other semifinal is between Serena Williams and Caroline Wozniacki, the current Number 1 player. Both Williams and Wozniacki can make noise but I'm hoping I don't have to watch it on mute.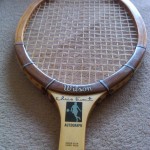 Watching tennis again has brought back a lot of memories, most of which are wonderful. I started playing at age 10 with my Wilson Chris Evert Autograph racquet and I won a mixed doubles championship at aged 11. I remember copying Chris' mannerisms and strokes as best I could. I try not to remember the cruelty of the girls on my high school team whose taunts and dirty tricks made tennis not fun anymore and led to my quitting the team after two years.
But high school was a long time ago and it may be time to pick up my racquet and start playing again. Luckily, tennis is a game that you can play at any age and I have courts within walking distance from the house. Now I just need to find a partner. Tennis, anyone?