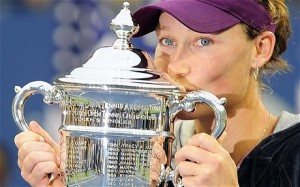 As I wrote in my last post, my love of tennis has returned and much of that is due to a young woman from Australia named Samantha Stosur. Oh, and in case you hadn't heard, she defeated Serena Williams handily in the U.S. Open final yesterday, 6-2, 6-3. Sam became the first Australian woman since Margaret Court in 1973 to win the U.S. Open. While this is great cause for celebration for Australia and Australian tennis, it's great for anyone who values champions with class.
There was some controversy at the beginning of the second set that almost tilted the momentum to Serena Williams. The umpire deemed Serena's celebratory scream after she struck a ball before the point was over as as a violation of the Hindrance Rule and awarded Sam the point, which gave her the game. Serena then behaved like a petulant brat and unfortunately the crowd started pulling for her.
This situation reminded me just how much I dislike the idea of rooting for someone simply because he or she is from your country. I support a player because I like him or her not because he or she is an American. An acquaintance on Twitter took offense at my characterization of the crowd as jingoistic yet she basically admitted that she was rooting for Serena simply because of her citizenship. This is not the Olympics or the World Cup where supporting your country is natural and appropriate.
Add to this mix the emotions of the 10-year anniversary of 9/11 and this could have gotten really ugly. Luckily for Stosur and for the game of tennis, she remained composed and let her playing do the talking for her. I hope that when people look back on this match, they'll give Stosur the credit she deserves for her high-quality play and her grace under pressure. What we don't need is any whining about a bad call (which it was not) or excuses for Serena's lackluster performance. Serena Williams is an incredibly talented player who will go down as one of the greatest to have ever played. On Sunday, however, a 27 year-old from Down Under was better.