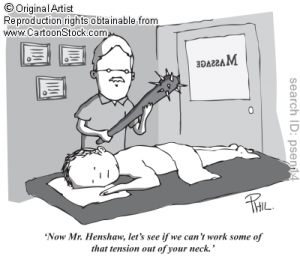 I have a love/hate relationship with massage. On the one hand, I enjoy giving them and I've been told I'm very good at it. On the other hand, I've yet to receive one that left me feeling better, not worse.
My physical therapist is astounded by how tight and stiff my neck, shoulders and back are. And knead, push and pull as she might, I don't seem to loosen up. So, I'm thinking that perhaps it's time to give massage another shot.
The last experience I had with massage was over a decade ago and I don't remember much except that during and after, I felt like a baseball bat hit me all over my body. From my experience as a massage giver, I know that's not the way to get repeat business (or a another date, for that matter).
You may be wondering (or at least I hope you are), just how I learned to give massages. Well, I have to take you back to the not-so-golden days of high school. At St. Rose Academy, Christmas break really didn't mean a complete break. The week before school was to resume, we were given a choice of activities from which to choose for our intellectual or cultural enrichment. These included:
Travel: Enjoy a week in Lake Tahoe or Mazatlan with a teacher as chaperone. I don't know what exactly skiing in Tahoe was supposed to teach but the case could be made for brushing up on your Spanish in Mexico. I'm sure there were many girls who asked, "¿Donde esta Ramon? El es muy guapo." This option was chosen by: Rich girls generally, and slutty, rich girls, specifically.
Volunteering: Work at a soup kitchen, help at the local recycling center or other such worthy endeavors. This option was chosen by: Really religious girls or girls looking to pad those college applications with heart string-pulling extra-curricular activities.
Classes: Show up at school and learn something that isn't part of the standard curriculum during the year. I distinctly remember learning dance steps to The Manhattan Transfer's Boy From New York City in one such class. To this day, I dislike that song. Another class offering was shiatsu massage. This option was chosen by: You guessed it. Me.
It was a couple years later while in college that I picked up that old massage book and starting practicing on my friends. I don't recall how it came up in conversation but when my friends found out that I learned shiatsu massage, they begged me to give them all one. (Oh, how I wished some cute girl would have wanted a massage. But, alas, I was still trying to convince myself that I was straight. Unsuccessfully, I might add.)
Back then, a typical Saturday night for me and the dateless bunch I hung out with consisted of drinking wine, talking about ideas (philosophy, politics, etc.), and listening to music. Most often our music of choice was mellow and along the lines of Sade or Bryan Ferry. Ferry's Boys and Girls album provided the primary musical background to those evenings. (Too bad it wasn't the background to other kinds of evenings with people who weren't my friends, if you catch my drift.)
I do miss those days. I was young and in college and my life was ahead of me, full of possibilities. I enjoyed deep conversations and even deeper laughs. Fast forward 26 years and the only place I seem to experience either chat or chuckles is via social media. While Twitter and Facebook can do many things, you can't give or get a massage and discuss past lives while this plays in the background:
Too bad.