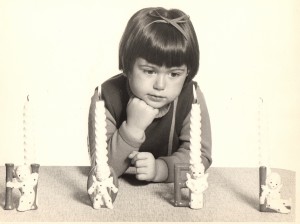 The photo above is my first and last modeling job. While my friend Adele Uddo is a parts model extraordinaire, I peaked at age 3. Ah, well, such is the fickle finger of fate and fame. (Ooh, you know how I love alliteration!) I was a cute little kid, though, wasn't I?
I guess that technically this wasn't a modeling job per se, despite the fact that I was the December 1968 cover girl. Where did my cuteness appear? Time? Reader's Digest? No, it was in this specialized publication: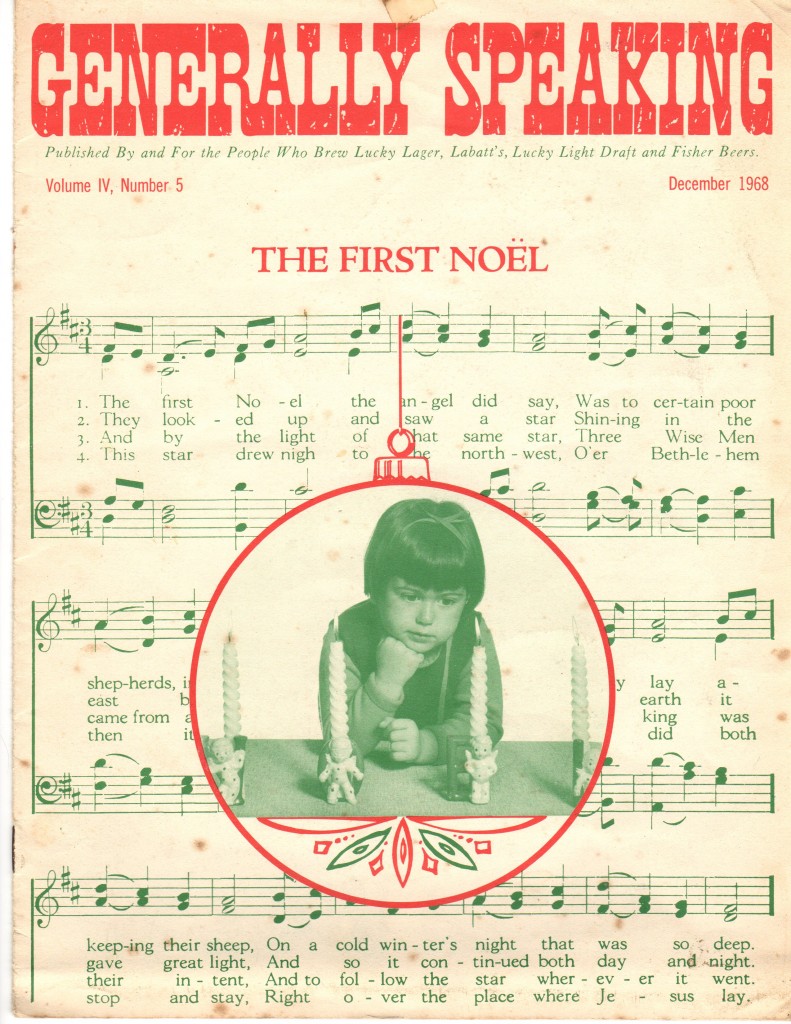 Not familiar with it? Well, let me enlighten you. This was the monthly periodical that was put out by the company for which my father worked. It was a brewery called Lucky Lager. Labatt's Brewery out of Canada was also part of the company. My Dad was a pressman in the duplicating department, responsible for all of the printed materials.
Apparently, a call went out among the employees asking if anyone had a child who would make a good model for the Christmas edition. So, being the proud father that he was, my Dad brought me in and I was chosen. One of my earliest memories is being at the photo shoot.
I remember that it was a warm day, probably late summer. My Mom, Dad and I went to a photography studio and boy, were we in for a long day. The only other memory I have from that day was staring at that candle in front of me, FOR HOURS. The photographer would give me a break every once in awhile but very soon, I'd be back, staring.
Thinking back on that now, 43 years later, it's astounding to me that I was able to do it. How many three year-olds do you know who would have the patience, good humor and good manners to pose and re-pose for hours upon end? I don't know any, but then again, I wasn't an ordinary child.
According to my parents, I was the kind of kid they could take anywhere. I was polite, I only spoke when I was spoken to, I didn't touch things, I didn't scream, whine or otherwise act like a brat. I was every parent's dream.
Were my parents tyrants who instilled the fear of God into me? Hardly. From as early as I can remember, I just preferred doing things that would make them happy. It made me happy. I could never understand it when I'd see other kids throwing tantrums and behaving like little jackasses. What was in it for them? They simply managed to make their parents angry and annoy everyone else in earshot. However, their behavior did make me look even better by comparison. (As I've said before, I'm a Leo and an only child. This means that I ADORE being thought of as wonderful.)
I understand how lucky I was that I had parents who loved me, paid attention to me and treated me like I mattered. They were interested in what I thought and how I felt so I didn't have to create chaos to get their attention. When you're being ignored, I guess even negative attention is attention. I feel for those kids when I see them acting out now, even though their behavior tries my patience.
My parents weren't well off. They lived in a one bedroom flat in San Francisco's Mission District for 27 years. I spent the first 17 years of my life there. My bedroom was really a dining room, but I didn't even notice. My childhood was full of love, laughter and learning. I was a very happy child in general, and I loved my parents so very much. I always knew the feeling was mutual, even during those times that were a little more challenging. I think you can see the love in these photos from that Christmas in 1968. I sure can.