I'm going to this exhibition today and I'm very excited. I'm a big fan of the Dutch Masters (and I'm not talking the cigars). I don't claim to know anything about art, but I know what I like. Basically, I like trees that look like trees, people who look like people, etc. I like subtle use of light and shadow. This is the main reason that I like artists like Johannes Vermeer. And it's a main reason why I don't like modern art. I mean, if a painting looks like either: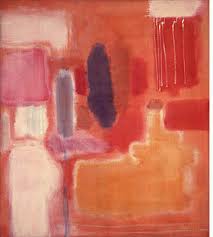 (a) something that a kid in kindergarten could do with finger paints (Mark Rothko – "Number 9")
or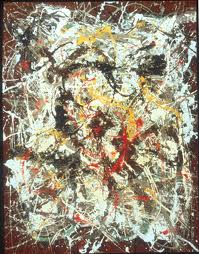 (b) something one of my cats threw up (Jackson Pollock – "Number 4"), I don't see it as art. Sorry, I just don't.
    The most modern I get are the Impressionists. I like the colors and you can still discern what the shapes are in the paintings. As is the case with this work by Claude Monet: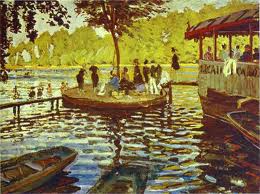 "Le Grenoillere" (1869)
     Picasso, I don't get at all. I know there's symbolism and all that but nobody can convince me that the craftsmanship in this: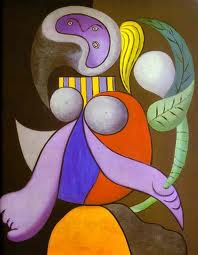 "Woman With a Flower" (1932)
(There's a woman? There's a flower? I'm lost.)
is comparable to this famous Vermeer painting: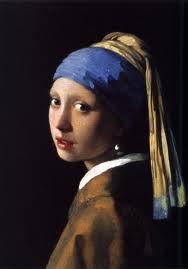 "Girl With a Pearl Earring" (1665)
     Maybe they're not supposed to be compared? Like comparing punk to classical is a pointless musical exercise? I don't know.
     I want to be open-minded, I really do. For example, I used to deride soccer as "hockey on grass" and claim that it was boring. Now, that I'm understanding it a bit more and following the Wolverhampton Wanderers, I now appreciate the "beautiful game". Will this happen for me with modern art? I'm not sure. Maybe I'll take a chance and go to the San Francisco Museum of Modern Art one of these days. But, alas, today is not that day. Today I get to remain in my comfort zone and gaze at the artistry of works like this by Jan van der Heyden: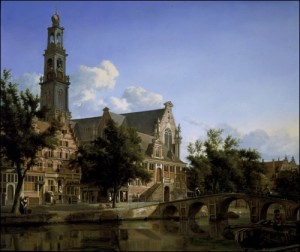 "View of the Westerkerk, Amsterdam" (1667-70)
(Courtesy of the Rose-Marie and Eijk van Otterloo Collection).
      Ah, very nice.