Two events this weekend remind me that sometimes things that happened a long time ago feel like they took place just yesterday. The first of these events occurred exactly 22 years ago today. On February 2, 1991, my Dad died of a heart attack. He was 56 years old and I was 25. This is a picture of us a little less than two years before at my graduation from San Francisco State University. At the time this picture was taken, he was newly sober and we were repairing our relationship. I was re-discovering the man that my mother said she married and the man that I had almost forgotten. This was the man who taught me to throw a baseball, to swing a bat and the man who took me to Giants games at the spur of the moment on a random school night, if my homework was done.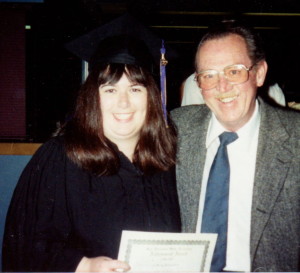 I had missed that man for too many years, but in the short time between 1989 and 1991, all the hurt and anger dissolved and we were enjoying each other's company again. Needless to say, his death was quite a shock to both my mother and me. But, I'm so grateful for those two years. At least I didn't have anger and guilt on top of my grief. He was okay. We were okay.
The second event is the appearance on Sunday of my hometown San Francisco Forty Niners in the Super Bowl for the first time since 1994. When I think of the Forty Niners, I also think of my Dad. When my Dad was watching a game, it sounded like five guys were in the room. I can clearly hear him yelling every time the offense tried to run a sweep and they failed or when Joe Montana connected with Freddie Solomon or Jerry Rice on a long pass. He hated most television announcers aside from Pat Summerall and John Madden. If Pat and John weren't doing the game, he'd turn off the sound and listen to the great Lon Simmons on the radio.
Dad would often take part in football pools. I remember answering the phone many times and hearing the clink of bar glasses as some guy in a raspy voice would quickly ask, "Is Frank there?" And I, being a smart ass like my Dad, would say, "Dad! It's Jimmy the Icepick for you!" He didn't win very often but one year he won this Forty Niners jacket. He wore it all the time and I've kept it in the hall closet ever since he died.
My Dad died the week after the 1991 Super Bowl in which the New York Giants beat the Buffalo Bills. I didn't know he had won money until he was dying in my arms. As we were waiting for the fire department and ambulance to arrive, my Dad was going in and out of consciousness and I was trying to keep him calm. My mother was a nervous wreck in the kitchen, asking if we'd need money at the hospital. Somehow my Dad heard her and whispered to me, "Money. Envelope. Desk." He had just picked up his winnings the day before.
I thanked him and told him not to worry about us. He got very quiet and when the paramedics arrived and I moved out of the way, I knew he was gone. His face had turned gray and he wasn't responding. He was declared dead an hour later at the hospital.
There hasn't been a day over the past 22 years that I haven't thought about him. I often wonder what he'd think of the current state of politics or how I've turned out. And I miss him every day, today and tomorrow especially. Maybe I'll take the jacket out of the closet and slip it on for good luck on Sunday.
So Dad? If you have any pull up there, see what you can do about a Niners victory, okay?