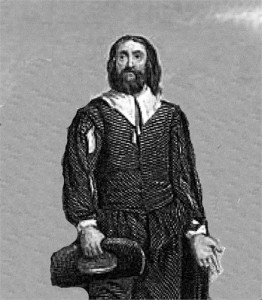 This serious looking man is Francis Cooke and according to my cousin Gene, the family historian, he is my 11th great-grandfather. Oh, and he hitched a ride on The Mayflower and was a signer of The Mayflower Compact. Before I go any further, let me submit this disclaimer. My family is so not your stereotypical Mayflower family. Oh, sure, we share ancestors with the Bushes and the Roosevelts, but that's where the similarities end. Somehow their branches were the rich, preppy, Ivy-League types and mine, is well, not that.
While those other descendants of Francis Cooke were out creating political dynasties, some of my relatives were carving out names for themselves in other ways. Take for example, this fellow.

His name is George Rowe and if I have the genealogy correct, he was my great-grandmother's brother. And this is his mug shot from Folsom Prison. He was convicted of First Degree Burglary in 1896 and was sentenced to 15 years, serving nine. Take that, Mayflower Society!
Later on, there was my great-uncle "Honey" who ran a book-making operation out of his cigar and candy store in San Francisco's Mission District while his sister, my always prim and proper Aunt Evelyn, took the bets over the phone. Years later, some of my earliest memories revolve around going with my Dad to place bets at a bar in the Mission that shall remain nameless. Here I'd sit at the bar with the bookies and sip a Shirley Temple. It was in this bar that I learned how to shoot pool. And despite being right-handed, I shoot pool with my left. I guess one of those bookies was a southpaw. One day the police rounded up the bookies and when it was reported in the paper, I read aloud the names of my "friends" who had been arrested and I cried.
So, as you can see, being a descendant of The Mayflower isn't all penny loafers & Lacoste shirts, Martha's Vineyard and the Harvard-Yale game. It's also bookies and burglars. I am grateful to 'ol Francis for making that long journey across the Atlantic. And I'm grateful to my Irish, Italian and German ancestors who also made that trek. I don't know if I would have had the courage to do it. The seasickness and cramped quarters alone may have kept me in Europe.
Happy Thanksgiving to you all, no matter how or when you got here, be you patrician or plebeian, saint or sinner. It's who we are now that makes the difference, not who our family was. We make our own history every minute, so go make some with friends and family this Thanksgiving.