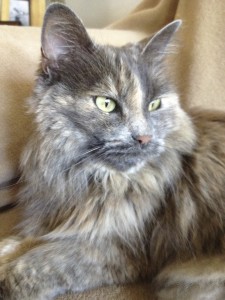 It was a month yesterday since I had to make the painful decision to put my 13 year-old cat Dini to sleep. She'd been battling some intestinal and other issues for awhile, but nothing that ever made me think that she wouldn't be around for quite a long time. The weekend before I took her into the vet, she was listless and spending a lot of time alone. This wasn't Dini. Dini was the most lovable cat I ever met. She adored being held, kissed and loved. She was not standoffish at all.
So, when I brought her in on that Monday, she had lost even more weight, was dehydrated and running a temperature. As the doctor was examining her, he discovered a mass between her kidneys that wasn't there on her last visit in November. The x-ray showed just how large this mass was and the doctor suspected that it was an intestinal tumor. At her age, surgery would be risky and not guaranteed to be successful.
I knew what I had to do and it was one of the most painful experiences I've ever gone through. I petted her, talked to her and kissed her as the doctor administered the shot. A day hasn't gone by that I don't think about her, cry over the loss of her or expect to see her. Christmas will be especially hard because Dini loved lying under the Christmas tree.
From the minute I brought the tree up from under the house after Thanksgiving to when I took it down in January, Dini could be found under it rolling around on her back or batting a low-hanging ornament. This last Christmas, I literally had to block her from going under the tree while I was still putting it together. She actually put her paws up on my shoulder and tried to muscle her way past me. Here you can see her with Bella from a couple years ago.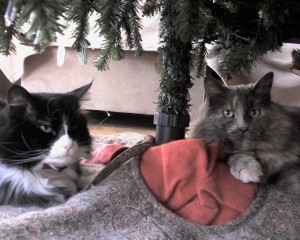 Dini was born in the neighbor's backyard. One day I spotted about four kittens jumping through the grass and plants as their mother looked on. Then, they were gone. Months later, one of the kittens came back. As soon as I could, I caught her and got her fixed. She got her name while recovering at the vet's. Somehow when one of the assistants had the cage door open, Dini wiggled out and was lost in the office for a week. They left food out and eventually found her. The unnamed cat now had a proper name: Houdini, named after the famous magician.
She remained an outside cat for about a year until I was brave enough to try to introduce her to Bella. After a short time of Bella's hissing, Dini settled in. She and Bella were sisters for the next 12 years.
I was really worried about Bella after Dini died. Would she get depressed? Would she stop eating? Luckily, her appetite has been very good and she seems okay. Sometimes it seems like she's looking for Dini, but I've tried to give her a lot of extra love and attention.
People have asked me if I'll get another cat, and I don't think so. Bella is 15 years old and I hope that she lives a long time, but after she's gone, I don't plan on getting another pet. It's too painful. I'll content myself with loving other people's pets. So, to all of you animal lovers out there, hold and kiss your babies even more. You never know when it will be the last time.
Rest in Peace, Dini. You were the best girl. I love you and miss you so much.