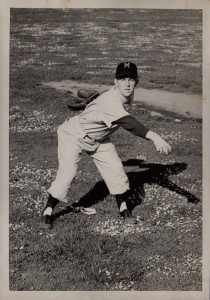 Baseball season is starting and as always, my thoughts turn to my father. As some of you know, my Dad instilled a love for baseball in me as soon as I could hold a baseball and put a cap on my head. This is a picture of my Dad back in high school just about 60 years ago.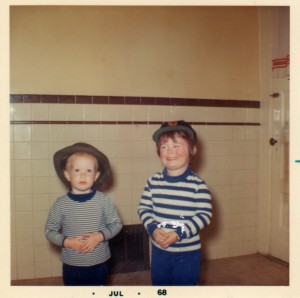 In my baby book under age two, my mother wrote that my favorite song was "Bye, Bye Baby", the song that opened San Francisco Giants radio broadcasts on KSFO. As you can see, I started early. As soon as I could stand, Dad was tossing a ball to me. He taught me how to catch and how to hit as well. He often said that he did this, not because he secretly wanted a boy, but because he believed all children should be coordinated and develop a love for sports. The photo at left is of me at age 3 wearing my trusty Giants cap. It seems that my little friend Monica was going for more of a Jed Clampett Beverly Hillbillies look.
This year marks the 21st baseball season that my Dad hasn't seen. A lot has happened in our national pastime over those years and I often wonder what his thoughts would be. One of the things I miss most is talking baseball with my Dad. He took me to so many games at Candlestick Park and we sat everywhere from the luxury boxes to the bleachers. His favorite spot was behind homeplate so he could describe to me what the pitcher was throwing. I learned everything I know about baseball from all those times with him. They are memories that I treasure.
He would have hated the strike in 1994 but would have applauded Cal Ripken breaking Lou Gehrig's consecutive game streak in 1995. The steroid era would have disgusted him, especially with hometown kid Barry Bonds at the head of it. I think he would have initially disliked inter-league play (mainly because he despised the designated hitter rule), but would have come to enjoy seeing the Giants play the likes of the Yankees and Red Sox. The idea of the All-Star game determining home-field advantage in the World Series would have annoyed him and struck him as "PR bullshit". I can't say that I disagree with him.
He would have loved AT&T Park. He never got over the fact that the Giants left cozy Seals Stadium for God-awful Candlestick Park. He always said, "They left perfect weather here in the Mission for cold and fog out in the Bayview. Political bullshit." I can hear his voice now saying, "Hey, Kel. Wanna catch the streetcar downtown and see a game?" How many times he came home from work on some random weeknight and asked if I finished my homework and asked if I felt like hopping the bus and heading out to the 'Stick. It was the 1970s and the Giants were horrible, but I always wanted to go.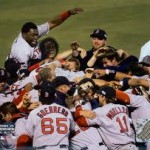 When the Red Sox finally won a World Series in 2004, he would have cried like I did. His tears would have been mainly because Ted Williams hadn't lived to see it. My tears that night were for my Dad for the same reason.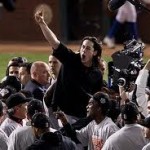 But, by far, sharing the World Series victory of the Giants in 2010 with him would have been great. He would have loved that team. Tim Lincecum, Matt Cain, Brian Wilson and the rest of the staff would have thrilled the old pitcher's heart. And he would have loved the spunk of the rest of the guys.
So, in honor of the start of the 2012 baseball season, here's the scene from Field of Dreams that makes me cry like a baby every time I see it. I'd give anything to have a catch with my Dad right now.